I just recently found the random thoughts Tuesday meme and since I didn't have a blog post planned for today I thought why not?


So here goes. I got my first box of stuff to review this morning from Peter Rabbit. It came with a ton of stuff, not just one item. These are things from books, to lotions and baby wash....I haven't even really explored the box much yet, but I'm excited to start doing some reviews and work towards monetizing my blog a little. Hunky Hubs is pretty skeptical and isn't really sure where this is going. He thinks I'm trying to win a popularity contest, but really its not as much about that as it is connecting with other moms and just feeling accomplished in other ways than successful wiped butts and fed mouths. I do love being a stay at home mom, but I'm looking to broaded my writing skills, networking and while my blog won't be constantly about reviews and giveaways, it will feature them.
So I am excited at where things are going and the possible monetary value in my blogging.
What else is on my mind? I just finished up writing another update in my son's personal blog about his milestones and I just discovered how to turn it into a book! Yep you can turn a blog into a book! I have been great at keeping up with J's milestones in his personal blog and I saw this
website
, I had to do it!! What a great keepsake huh?? For J's 1 year birthday I compiled all the pictures and videos I took of him and turned it into a 25 minute video collage set to some of my favorite tunes. We watched it on his birthday and I plan on doing the same thing every year for his birthday, so now in addition to a video every year, I can make him a book..a physical hardback book with all of his monthly adventures. This is also great gifts for family or friends for Christmas! If you've kept a weekly or daily blog of your little one's adventures I'd definitely check this
site
out.
This morning I was changing J's diaper and lately he has been having really raunchy diapers that you dread rinsing out in the toilet. Even with rubber gloves its not pleasant, who ever said cleaning up after cloth diapers was easy breezy, I'm telling ya sometimes its not. Most of the time it is, but today I dropped the diaper on the way to the bathroom and thankfully nothing got anywhere. But a couple hours later I notice something dark on the floor and was horrified it was poop. Nope just some of the raisins stuck together from when I gave J a bowl full of raisins yesterday, which probably explains the dreaded diaper this morning. Duh!
So right now, I'm so glad its Tuesday, I don't have to cook tonight, because every Tuesday night is pizza night! YAY!! The kids are soundly sleeping...and I'm just enjoying me time with my laptop on the couch and listening to Coffee House Rock on XM radio.
What about you? You got any random thoughts?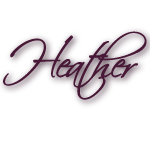 *Please vote for me. Just 1 click!*