So I think its been 3 weeks since I've had a feature Friday and I always have trouble getting in contact with some GFC followers or figuring out who my 200th facebook follower was, so this week I did a short contest for this feature friday spot on facebook and Tiffany From
Wyatt Family Farm
won the feature! I actually have known Tiffany for a few months. We host the Thursday blog hop "A Year Ago Today" meme together. So now both you and I get to learn a little more about Tiffany her family and her
blog
:
"Hello, my name is Tiffany and I am a stay at home mother to 3 blonde haired daughters. Bailey 10, often refered to as DD10 (Well DD11 as of 12/3), Taylor 7, often referred to as DD7, and Catherine 4, often referred to as DD4. Guess those will change on birthdays, now that I think about it. lol.

Anyway, DH (Jamie) drives a truck over the road for FEDEx ground and we usually only see him Sat, Sun, and half a day Mon. We moved here to KY and are waiting on our dream home to be finished being remodeled. It seems like it is taking forever.... oh wait it is.. lol
I tell you with 3 girls, chickens, dog, and hubby, I am never at a loss for words, written or typed lol....
So with that said off we go... I look forward to getting to know you all.
You never know what you might find at Wyatt Family Farm, some times I can be quite witty whiles others I am just down right crude. Well maybe not crude, but I call it like I see it. I blog about my everyday life, my family, and my friends. I offer reviews and giveaways whenever possible. Check back often you might just get a surprise!


These pics here previews of the pics that I took last weekend when we decorated our tree. They are not even on The Wyatt Family Farm blog yet! So its a super sneak peak!"
****
Be sure to stop by Tiffany's
blog
and leave her a comment today. Anyone who leaves her a comment and leaves a comment here on her feature has a chance to be featured next thru Random.org as long as there is a means to contact you. I have had to give up several features because of invalid contact information. Anyway, leave lots of love and I know Tiffany has some great giveaways going on right now on her
blog
you should check out!
And now I award Tiffany our New I've Been Featured on MOHTH button: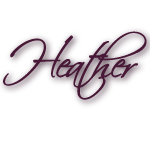 If you liked what you read, please vote for me: